spectro2guide is the next step in objective colour measurement, simultaneously assessing colour, 60° gloss and fluorescence in one single tool. What's new is the prediction of colour stability by measuring like a fluorimeter with monochrome illuminations. It ensures colour harmony and analyses colour stability to provide objective measurement for today and the future.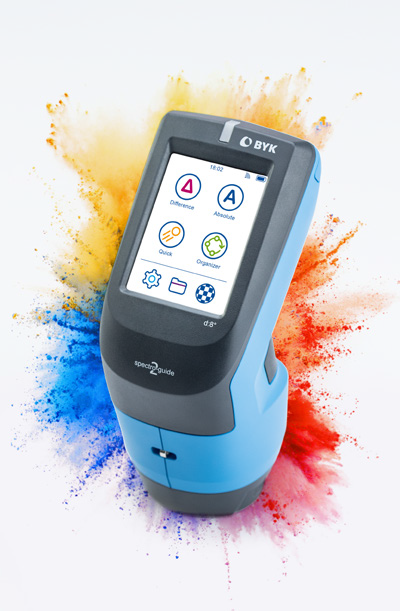 Features include:
Colour, gloss and new fluorescence measurement in one
Balanced and upfront design with large colour touchscreen
Smart docking station with integrated white standard and automatic calibration
Live preview of the measurement spot with integrated camera
Smart high-tech LED illumination for excellent short-term, long-term and temperature stability
10-year warranty on LED light source - no lamp change needed
Exchange of digital standards due to excellent inter-instrument agreement
Please contact Simon Moss for further information or to request a quote on +44 (0)1959 560818 or by Email.
Ordering Information Cat. No. Decription
7070 spectro2guide, d/8
7075 spectro2guide, 45/0
7087 spectro2guide Pro 45/0
Professional data analysis with smart-chart combined with WiFi or USB data transfer