Surface appearance changes with the size and distinctness of wavy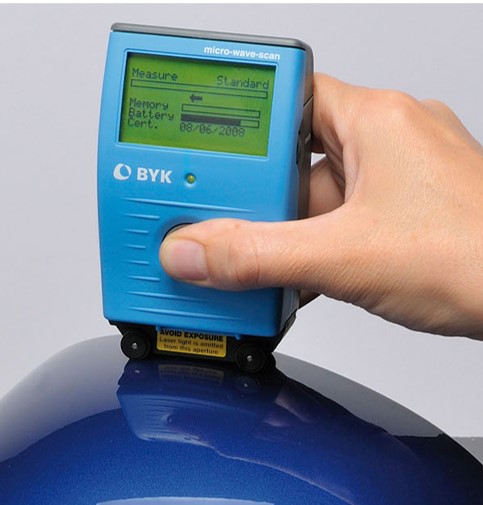 structures. The wave-scan analyses waviness intensity with 5 wavelength ranges (0.1 mm - 30 mm) and evaluates the brilliance of the surface. The results form a "structure spectrum" and help you to analyse and optimise the surface quality based on material and/or process parameters. From substrate to top coat, from film thickness to levelling - wave-scan is your diagnostic and QC tool at the same time to keep the process under control.
With micro-wave-scan, you can objectively evaluate Orange Peel and DOI on very curved components or small add-on parts - like fuel doors, mirror housings, door handles, decorative trim or motorcycle parts. DOI measurement is also possible without scanning the surfacen>
It comes with a docking station for recharging and data transfer to smart-chart allowing professional analysis, documentation and data management. micro-wave-scan fits in the palm of your hand: it is small, lightweight and easy to use.
Features include:
For flat and curved surfaces (radius > 30 cm)
Fits in the palm of your hand
Classical LW, SW and customer specific scales
Structure spectrum to analyse appearance changes for optimisation
Dullness and DOI measurement independent of the paint system
Easy scroll wheel operation and large, multilingual display
Scales and scan lengths can be selected from menu
Full statistics and data saving
Docking station for data transfer to the PC and recharging the batteries of the Orange Peel meter
smart-chart software for data analysis and documentation
Ordering details
Decription micro-wave-scan
Cat. No. 4824
Please contact Simon Moss on (+44) 1959 560818 or via email for further information or quotation