Harness the power of three for overprint varnishes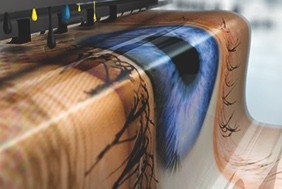 Take a look at our overprint varnish formulation package which brings together three tried-and-trusted products for an optimal end result.
The strength of this package for overprint varnish formulations results from the manner in which the three products – a wetting agent, a defoamer and wax emulsion - act synergistically for improved results:
Product 1: BYK-019 is a silicone-containing defoamer which is particularly suitable for aqueous overprint varnishes based on acrylate dispersions, polyurethane dispersions and polyurethane/acrylate combinations.
Product 2: BYK-377 is a highly effective silicone additive, which improves substrate wetting of solvent-free UV curable overprint varnishes, even at low dosage levels. Since it is highly compatible with standard resins, it is also useful for producing highly transparent overprint varnishes. Of all BYK's silicone additives, BYK-377 is the most suitable for improving tape release properties in overprint varnishes.
Product 3: AQUACER 530 is a wax emulsion for improved surface characteristics in overprint varnishes. It improves abrasion resistance and reduces the coefficient of friction.
Try out our three-in-one solution or ask about our full range of products for overprint varnishes by calling Philip Randall on 01959 560857 or email.