The BYK-mac i provides a total colour impression of metallic colours and effect pigments, measuring both multi-angle colour and flake characterisation in one portable device.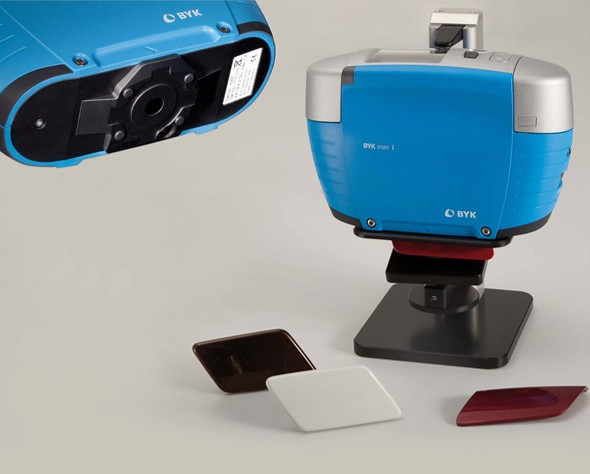 The appearance of effect finishes is influenced by different viewing angles and viewing conditions. Apart from a light-dark flop and colour shift, special sparkling effects can be created.

Features include:
Total colour impression: 5-angle colour measurement for light/dark travel evaluation (15° / 25° / 45° / 75° / 110°);
Additional colour measurement behind the gloss for colour travel of interference pigments (-15°);
Sparkle and graininess measurement for flake characterisation;
Also measures flop and fluorescent craterisation
These combine to show a complete colour impression.
It conforms to global standards and can be wifi enabled. A small aperture version is available as are accessories for cosmetics measurement – powder, curved objects, liquids and wet drawdowns.
BYK's smart label software is included as well as free training and set up session.
Download Product Information Sheet
Ordering information
7030 BYK-mac i 23 mm 23 mm diameter
7034 BYK-mac i 12 mm 12 mm diameter
7031 BYK-mac i Sensor 23 mm 23 mm diameter
7035 BYK-mac i Sensor 12 mm 12 mm diameter
Please contact Simon Moss on (+44) 1959 560818 or via email for further information or quotation