Surfex is back – see us on stand 205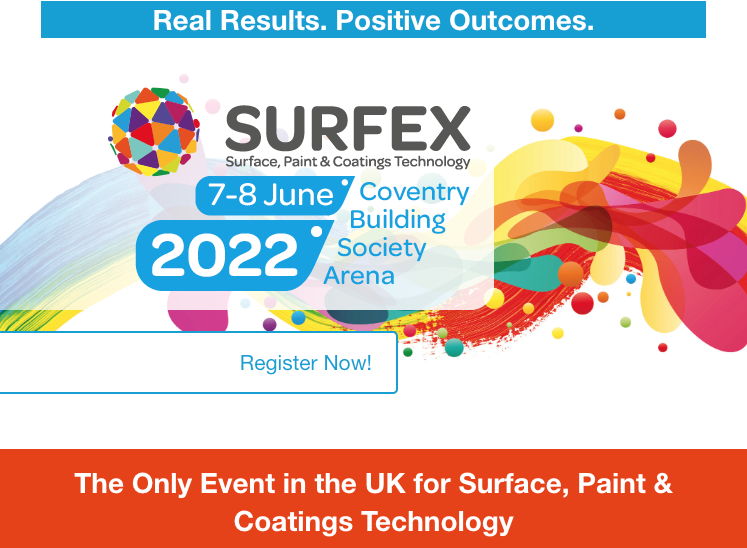 The foremost event for everyone involved in paint and coatings technology in the UK is back! Surfex is opening its doors again on June 7 and 8th at the Coventry Building Society Arena.
Come and see us on Stand 205 to explore our product range and discover what's new from leading global manufacturers including BYK Chemie, Eckart, Chemours, Rio Tinto Minerals, Rain Carbon and Everlight. Our high-quality range encompasses resins, pigments, additives and more, for the paint, printing ink, construction and flooring markets in the UK and Ireland.
Highlights from our stand include:
BYK additives to support your water-based innovations:
Responding to market demands for more environmentally friendly water-based coatings, BYK continues to refine its additive range to enable aqueous coatings to perform as well as or better than solvent-borne equivalents. Be inspired by water-based innovations such as labelling-free dispersive additives for binder-free grinds, next-generation silicone defoamers, and defoaming high-build water-based systems.
Eckart effect pigments for sustainability, functionality and impact:
Discover more about Eckart's effect pigments for sustainable water-based coatings – particularly the Hydrolan range. There are exciting opportunities from functional pigments and pellets too, such as improved thermal insulation (iReflex and EnergySafe) and replacing Chromium VI in electroplating (Hydroshine).
Novares resins from Rain Carbon, including the pure series of hydrogenated hydrocarbon resins:
Fully hydrogenated low-polar hydrocarbon resins from Rain Carbon's new production facility in Germany are useful when low odour and colour, thermal stability and excellent polymer compatibility are required. These resins improve the UV stability, chemical resistance and solid content of coating formulations. They are also in demand to meet increasingly specialist requirements for hotmelt adhesives, such as defined compatibility, softening points and thermostability.
UV protection from Everlight's Eversorb series
:
The series delivers superior UV protection to enhance the performance of polymers in coatings, adhesives & sealants, inks, plastics and many advanced applications.
Manufacturing excellence combined with innovative technologies make BYK-Gardner instruments industry leaders. They deliver outstanding performance across a wide range of applications such as objective measurement of colour and appearance as well as testing physical properties.
Discuss all these and more when you meet members of our technical sales team and representatives from key supply partners in our industrial market sectors at Stand 205.
To make an advance appointment, please contact:
Michael Austin on 01959 560804 (email) for Coatings;
Phil Randall on 01959 560857 (email) for Graphics Arts;
Greg White 01959 560817 (email) for Adhesives and Sealants;
Simon Moss 01959 560818 (email) for QC Instruments.