New additives provide strong sag resistance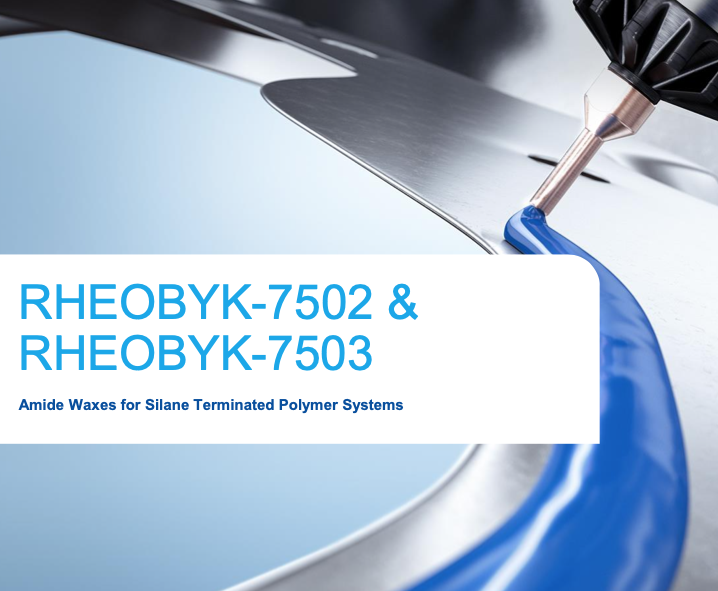 Two new liquid rheology additives have been developed by our Key Supply Partner BYK to provide strong sag resistance and stable processes with zero emissions in epoxy, alkyd and polyurethane systems.
Rheobyk-7502 and Rheobyk-7503 are 100%-active micronised organic powders which meet the market requirements of various systems by increasing the sag resistance and producing a strong shear thinning effect. They are ideal for single component silane-modified polymer systems, epoxy systems and alkyd-based coatings systems.
The use of such systems for adhesive and elastic sealant formulations in construction, flooring and transportation applications makes high sag resistance and storage stability strictly necessary.
The new amide waxes, Rheobyk-7502 and Rheobyk-7503, have been specially developed to meet the requirements of these systems by creating unique pseudoplastic flow behaviour. The mechanical properties remain unaffected.
Key benefits of the additives include:
High sag resistance
No impact on mechanical properties
Unique pseudoplastic flow behaviour
Stable process control
Good storage stability
100% micronised organic powder
100% emission-free
For more information about these and other additives in our portfolio, please contact:
Ian Corke on 01959 560809 (email) regarding plastic applications
Michael Austin on 01959 560804 (email) in respect of coatings applications.
Please note:
Information provided here is given in good faith and without liability. It is intended for guidance only. Users are advised to conduct their own independent examination of the product to ascertain its suitability for incorporation into processes or products. Users should ensure that the use of the product complies with all pertinent current legislation. We guarantee to supply to specification, not performance.