How is COVID-19 changing Personal Care market perspectives?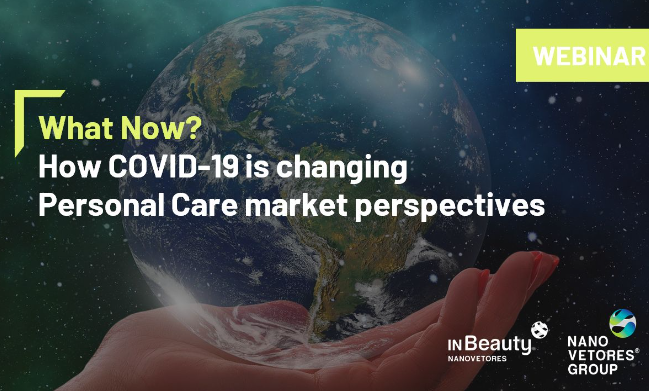 The spread of COVID-19 across the world has precipitated huge changes in routines, attitudes and behaviour in a very short period of time. The Personal Care industry has reacted quickly to help meet immediate demand for soaps and sanitisers, but what of the longer term? How can companies adjust to the world beyond lockdown?
This was the focus of a fascinating webinar presented by our supply partner Nanovetores. The webinar considers what is happening right now, the effect on people's behaviour and what will be important in the future.
On a practical level, it identifies ways in which Personal Care companies can and are supporting consumers and organisations. Soaps and sanitisers are the most obvious, but there is increased call for hand moisturising creams too. Going forward, protection against harmful effects to the skin from wearing masks will be in demand.
Four key trends are highlighted
The crisis has led to huge changes in daily life. Many are likely to stick, at least partially, so the presenters look at how these changes are affecting the personal care market in relation to four key trends: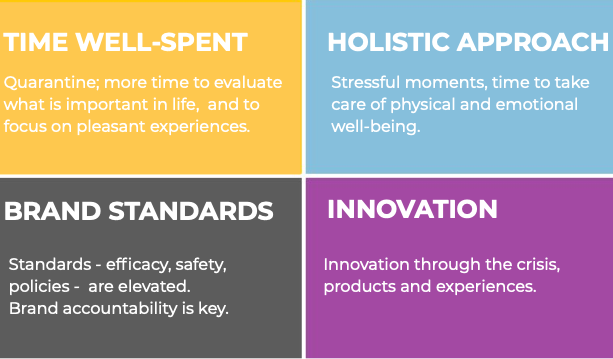 Time well spent: Increasing importance is being placed on self-fulfilment and belongness in purchasing decisions. At the same time people have more time at home and are looking for enjoyable ways to fill their time.
Holistic approach: The balance between body, mind and soul is the core of the holistic approach. People are establishing healthy routines to help them handle the anxiety prompted by uncertainty in all life's aspects.
Brand standards: With health concerns so high, people want safety with brands that they can trust, that are transparent and honest.
Innovation: We are seeing 'tech-celeration' as so many areas of our lives move into the virtual sphere.
To understand these trends and what they mean for consumer demand in the personal care sector, watch the video here.
Innovative technology to release actives
Nanovetores uses technology to create and develop high performance Personal Care active ingredients for cosmetic applications. This technology grants new possibilities for cosmetic formulators to deliver results with safety and sustainability. Nanovetores encapsulated technology allows a prolonged release of active ingredients through five innovative triggers:
Water: Adding water sets off the release of the actives from the capsules. For example, Instant Base has a self-emulsifying action. When water is added, it forms a bright, smooth, homogeneous cream.
Temperature: A heat source creates variation of the capsule's temperature, releasing the active ingredient. For example Nano Liss gives protection to hair during styling with dryers or straightening irons.
pH: The pH variation leads to the disruption of the capsules, releasing the active ingredients. For example, sweating promotes variation in skin pH and this change will release the actives.
Enzymes: The enzymes promote breakage of the capsules, releasing the active in deeper layers of the skin through time. This trigger enables controlled and sustained release of the active ingredients, granting superior benefits and no irritability. For example, Nano Nails provides a slow release of antimicrobial and moisturising actives that give powerful strengthening and beautifying effect on nails and cuticles.
Friction: The friction on capsules promotes their breakage and the active's release. Nanovetores have developed encapsulated fragrances that release a stronger scent after friction. The biocompatible composition of these capsules makes them safe for application in personal care.
Find out more
Blagden supplies personal care products and actives from Nanovetores under the IN Beauty brand.
For more information and to discuss these ideas in more detail, please call Paula Thornton on 01959 560826.
Please note: Information provided here is given in good faith and without liability. It is intended for guidance only. Users are advised to conduct their own independent examination of the product to ascertain its suitability for incorporation into processes or products. Users should ensure that the use of the product complies with all pertinent current legislation. We guarantee to supply to specification, not performance.