High-quality, cost-effective inks for LED curing systems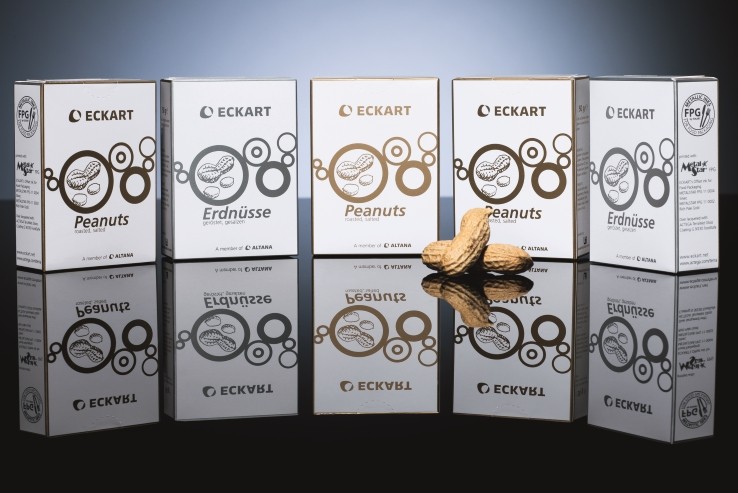 As printing technology moves towards the more efficient and environmentally friendly LED curing systems, our key supply partner ECKART is supporting developments with the launch of dedicated ink ranges.
LED-curing offset inks in metallic silver and gold
Demand for cost-effective LED-curing offset inks in metallic silver and gold has resulted in the launch of Unipak LED 485 Litho ink. This is a range of stable single-component LED-curing offset inks based on leafing aluminium and gold-bronze pigments.
The printing ink line stands out with high chroma and brilliant colour even at printing speeds of up to 12,000 sheets per hour. Specially designed for LED curing technologies, this range can be employed in UV curing processes too.
Technically, the inks provide outstanding printability with a stable ink-water balance and extremely fast hardening. The series is solvent free, does not contain Irgacure® 369, and the silver metallic shades contain less than 1% mineral oil – the gold shades none at all. They are ideal for offset printing on paper, cardboard, metal cans, foil substrates and in-mould applications.
Unrivalled metallic effects for food packaging
Gold and silver in all variations is a big trend in food packaging at the moment. ECKART's latest food packaging grade innovations provide unrivalled metallic effects for food packaging printed in conventional as well as in LED curing offset processes.
Metalstar UV/LED FPG 725 is a one-component gold series developed for UV/LED curing which can be used for applications with indirect food contact. Another one-component series certified for indirect food contact is Metalstar FPG 712 offering shine and brilliance in silver and gold shades comparable with mineral oil-based offset inks.
For more information about inks for UV/LED curing systems, please contact Philip Randall on 01959 560857 or email.