Bioenergy Ribose and RiaGev are now available from Blagden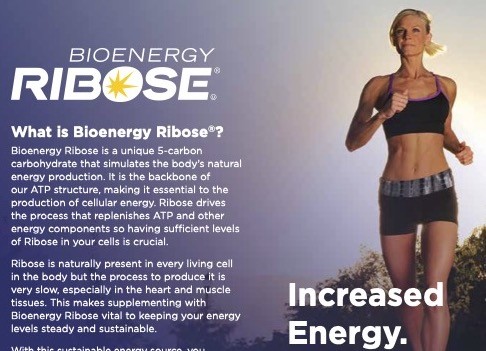 Two new versatile functional ingredients are now available from Blagden, following our appointment as UK distributor for Bioenergy Life Science.
Bioenergy Life Science develops natural, scientifically based ingredients that help people perform better, feel better and look better from the inside out. The company is best known for its development of the multi-functional molecule D-Ribose.
Better energy, better performance, better endurance with Bionergy Ribose®
Bioenergy Ribose® is a carbohydrate that stimulates the body's natural energy production. It is a clinically proven natural ingredient that delivers health benefits by increasing energy at the cellular level. For athletes and weekend warriors, it is linked with increased physical performance and endurance. Bioenergy Ribose® will boost the nutritional profile and benefit claims of food and beverage products and, with a sweet flavour, can help manufacturers reduce the amount of sugar in their products. It is suitable for formulation in functional food and beverages, dairy, confectionery, powders and supplements, among others.
There has been considerable focus on D-Ribose recently because of its unique ability to restore cellular energy. When you formulate with Bioenergy Ribose®, you can be assured of the product's quality. Bioenergy Life Science conducts rigorous quality assurance tests to meet customer's needs, and product purity levels average over 99%. Bioenergy Ribose® is protected by patent and designated GRAS (Generally Recognised As Safe) by the US Food and Drug Administration.
Repair, rejuvenate, defy ageing
Bioenergy RiagevTM combines the power of Bioenergy Ribose® with a form of Vitamin B3 to deliver cellular benefits which promote healthy ageing. This natural and innovative ingredient helps slow the ageing process from the inside out by efficiently increasing the cellular NAD (nicotinamide adenine dinucleotide) levels. It offers benefits for mitochondrial health, immune support and age-related cognitive health. Slightly sweet, with no aftertaste, it is easy to incorporate into food and beverage formulations.
For further information please contact Carol Mellor on 01959 560811 or email.
Please note: Information provided here is given in good faith and without liability. It is intended for guidance only. Users are advised to conduct their own independent examination of the product to ascertain its suitability for incorporation into processes or products. Users should ensure that the use of the product complies with all pertinent current legislation. We guarantee to supply to specification, not performance.