Don't miss us at Surfex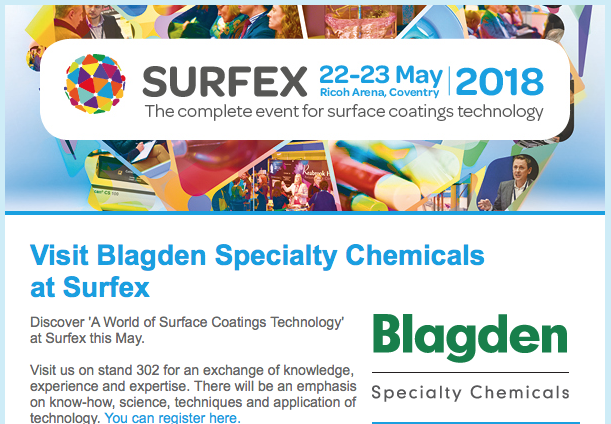 Blagden is exhibiting at Surfex in May. Come and see us on Stand 302 to explore our product range and discover what's new. You can also meet members of our technical sales team and representatives from key supply partners in our industrial market sectors: Coatings, Graphic Arts and Industrial Applications.
Surfex is the leading event for the surface and coatings technologies industry. It's at Surfex that visitors are able to keep up to date with developments to modify and improve the surface properties of materials for protection in demanding contact conditions, aggressive environments, or for enhanced functional performance.
The exhibition at the Ricoh Arena in Coventry takes place on May 22-23. Our stand 302 is prominently positioned near the visitor entrance in Ericsson Hall 1. To make an advance appointment, please contact Michael Austin on 01959 560804 (email) for Coatings, Phil Randall on 01959 560857 (email) for Graphics Arts, or Greg White 01959 560817 (email) for Industrial Applications.