We're exhibiting at SCS Formulate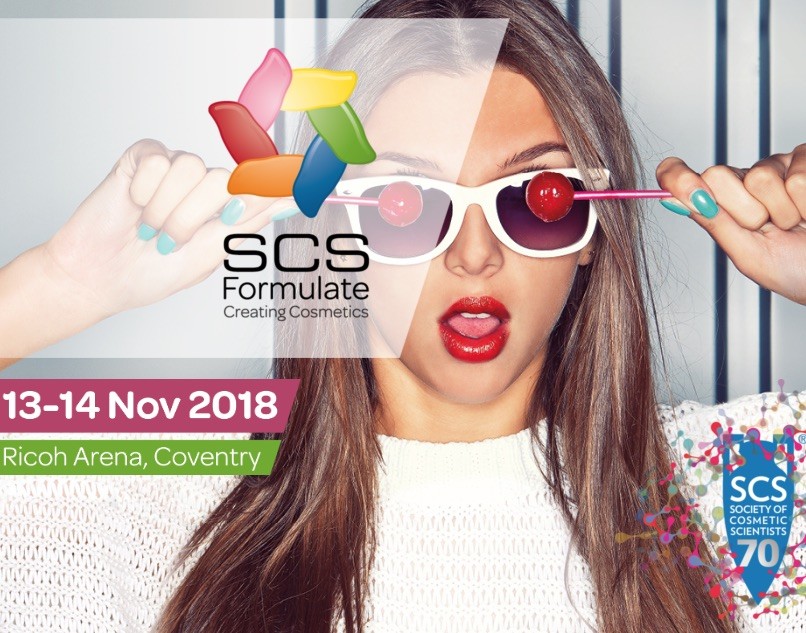 We will be showcasing a wide range of innovative ingredients on our stand 228 at SCS Formulate at the Ricoh Arena Coventry on November 13th and 14th.
Joining us are representatives from a number of our key supply partners:
Abies Labs: highlighting Belinal® C, a natural silver fir branch extract, offering wide-ranging benefits for skin products.
Biova: producers of BiovaDerm®, this is an advanced skincare ingredient based on water-soluble egg membrane. Rich in collagen and elastin, it's ideal for formulators and producers of high-end skin care products which straddle beauty and pharma in their efficacy claims. New for 2018, BiovaBIO™ is a beauty supplement which provides nutrients to improve skin tone and resilience whilst promoting 'beauty from within'
Gelyma: specialists in the creation, development and manufacture of innovative marine active ingredients, derived from sea algae. SUN'ALG® helps shield your skin from damaging effects of sun exposure and blue light, and can help to achieve SPF 50 formulations
Maycos Italia: producers of high performance, 100% natural cosmetic ingredients including emulsifiers, foamy surfactants and thickeners of vegetable origin. BIOMER is a modified vegetable polymer suitable for preparation of cosmetic gels or viscous systems, a great replacement for traditional carbomers.
Nanovetores: creating high performance encapsulated active ingredients, introducing Nano Nails, a nail strengthening and repairing treatment which can be used alone or under nail polish
Sekisui: manufacturer of Selvol™ Ultalux polyvinyl alcohols which impart a range of functional attributes to hair, skin, and colour cosmetic formulations. Formulators can choose from grades offering improved film formation, adhesion, and viscosity control.
Sollice Biotech: highlighting their new multifunctional texturising agent Sollivia®-FX that is rich in olive oil Squalane. Suitable for use in skin and hair formulations as well as being a perfect alternative to mineral oil and silicones
Tate and Lyle: promoting Avenacare™ Oat Beta Glucan, produced from high quality Swedish oats, which can be easily incorporated in to wide range of skin, hair and personal care products, delivering the well-recognised benefits of oats.
Vinner Labs: highlighting new-generation sun screen filters, which provide excellent performance characteristics across the UVA and UVB spectrum.
Blagden sales staff will be available throughout the exhibition to discuss products from our entire range. If you would like to arrange an appointment in advance, please contact Rakhee Daggar on 01959 560828 or email.
SCS Formulate takes place at the Ricoh Arena in Coventry on Tuesday 13th November from 9-5.30pm and Wednesday 14th November from 9-4pm. We look forward to welcoming you to Stand 228.